Spinal Cord Injury
Road to Recovery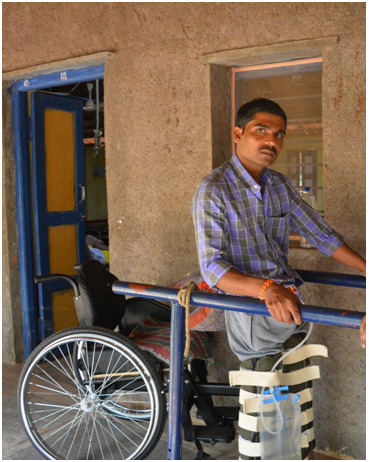 Mallappa is 30-years old, and is from Chikkamageri village of Koppal district in Karnataka. He was working as an agriculture laborer, when in March 2016, a wall collapsed on him and he sustained an injury to his spinal cord.
He underwent treatment at Hubli KMC hospital for his injuries. He was hospitalized for a month and given aftercare at home for the next 18 months. However, his condition didn't improve much. He was bedridden and developed many bedsores. He was totally dependent on his mother for all his daily activities.
His family brought him to the Naandi Social Rehabilitation Center (NSRC) for persons with Spinal Cord Injury (SCI) where Samarthya operates a short term residential facility. Here, he was thoroughly assessed by NSRC staff, and a detailed intervention plan was drawn up.
Once he was enrolled, he underwent physiotherapy and exercised regularly. The focus of his intervention plan was on strengthening his upper body, lower limb stretching, balance activity and gait training, in addition to training for bowel and bladder management and activities for daily living management.
Mallappa was also provided with a caliper, a folding walker and a wheelchair, while adaptations were made at his home. He received counseling services and information regarding government schemes during his stay.
Determined, Mallappa recovered from his bedsores and learned adaptive techniques to accomplish day-to-day tasks. He is now able to shift from bed to wheelchair and wheelchair to bed and perform other daily living activities independently. From being bedridden and dependent, he is now independent.
Early Intervention
Deafness
Carer