DSR - 1
Direct Seeded Rice – Lesser Cost, Higher Yield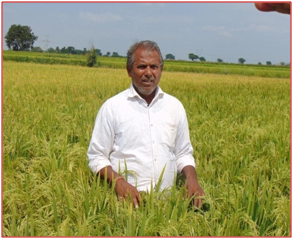 For the last 4 years paddy 56 farmers in Halasamudra, a village in Karatagi taluk of Koppal district, have been attending Farmer Field Schools (FFS'), supported by HUF (Hindustan Unilever Foundation). As a result they are now practitioners of LoWater paddy cultivation, as well as NPM (non pesticide management) practices.
A Critical component of this is Direct Seeded Rice (DSR). Ramanna, one of the LoWater NPM paddy practitioners shares his experience with DSR.
Ramanna says, "I am a member of the Shri Marutheshwara Farmer Group and we all regularly attend the Farmer Field School in our village.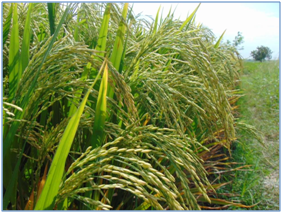 "This year, I decided to adopt DSR in 1 acre and 20 guntas.
Accordingly, Ramanna removed the weeds and, instead of standing water, let the water out, ensuring that the moisture was intact. He only applied the required amount of manure and neem cake. This method of cultivation saves time and money on nursery, transplantation, and puddling. Water saving is also high because transplantation method requires water to be retained on the field. This method also resists pest and disease attack. Earheads are also healthy.
Ramanna happily recalls, "I did not spray any chemical pesticides. I used bio pesticides like pseudomonas and panchagavya and chilli garlic paste instead. I removed weeds two times, applied manure at regular intervals, and watered it once in 15 days."
Ramanna harvested 50 bags of paddy from 1.2 guntas, instead of the earlier 43 bags. In DSR method the cost is Rs 9000 per acre and a further Rs 4000 is saved on chemical manure.
DSR - 2